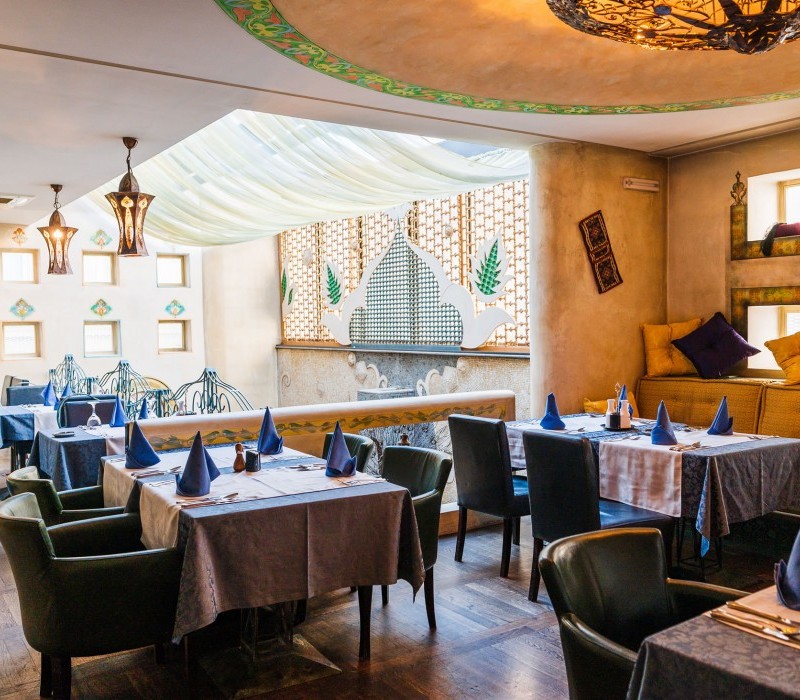 The only one of its kind in Sarajevo, the restaurant, part of the Hotel Art, is characterized by oriental paintings on its walls, handmade lamps, doors, and carved ceilings. These are just a few of the details which will delight every visitor.
Built on three levels, the restaurant offers a number of options.
Casablanca
With the play of light which is reflected on the fountain's waterfall, and a mosaic which stretches along the entire wall (the work of prof. m.a. Enes Sivac), the Casablanca section of the restaurant is ideal for bigger group and business dinners. The traditional oven and grill deserve special mention. This part of the restaurant offers a more intimate atmosphere, and with its traditional Bosnian furniture and international cuisine will certainly provide a memorable experience.
Marrakesh
A perfect place for cocktails and aperitifs, Moroccan tea and high-quality wines.If you want to enjoy while having a cup of mint tea or traditional Bosnian coffee in our beautiful Moroccan interior decorated with colourful mosaics, you should definitely choose this part of the restaurant.
Fes
The Fes is the upper part of the restaurant and it can be customized for all forms of reception, entertainment and other content by your wish. The Fes is offering a beautiful view to the other parts of the restaurant. With wooden oriental ceiling and warm colours of walls and pillows, it gives a romantic feeling, which our guest love to enjoy , especially at night.
More informations about Restaurant Maroko you can find on Facebook and Instagram.